Time to polish up your finished garden level or basement living area with new design forward windows that let in tons of natural light. Our basement hopper windows were created to improve airflow and ventilation while offering a great aesthetic for your stylish living space.
At The Window Source of NOLA, we offer the perfect solution for finished basements in and around New Orleans. Our basement hopper windows were specifically designed to maximize cost savings and feature energy efficient construction for both new and replacement windows.
Let in the Fresh Air with Basement Hopper Windows
Our basement hopper windows are easy to operate, affordably priced, and completely customizable. We manufacture all of our hopper windows to open on a horizontal axis inward. This allows improved airflow and easy cleaning, plus your new windows won't interfere with the window wells or exterior landscaping.
With Southern Louisiana's extreme weather conditions, you want basement hopper windows that are watertight with a tough seal that keeps your basement area dry. Our windows are constructed of a durable vinyl casement material that provides attractive architectural detail to your basement interior. They are virtually maintenance free and never need painting.
Your home's finished basement would benefit from attractive hopper windows that bring maximum airflow in the summer and energy efficiency in the winter.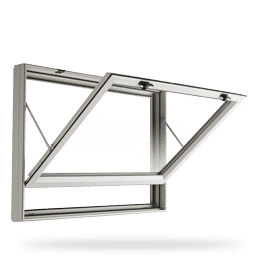 Our Basement Hopper Windows Feature:
Superior protection with triple-barrier weatherstripping for inclement weather.
Double insulated glass for an energy-efficient design that allows you to keep your home comfortable year round.
These windows offer a tilt-forward design to ensure easy cleaning.
With a super tight seal, our basement hopper windows stay secure and watertight.
Our basement hopper windows meet Energy Star requirements when paired with select glass packages.
Call Us Today For A Free Estimate
See What Our Customers Are Saying About Us
Great work, communication, and service!
Joel Hron